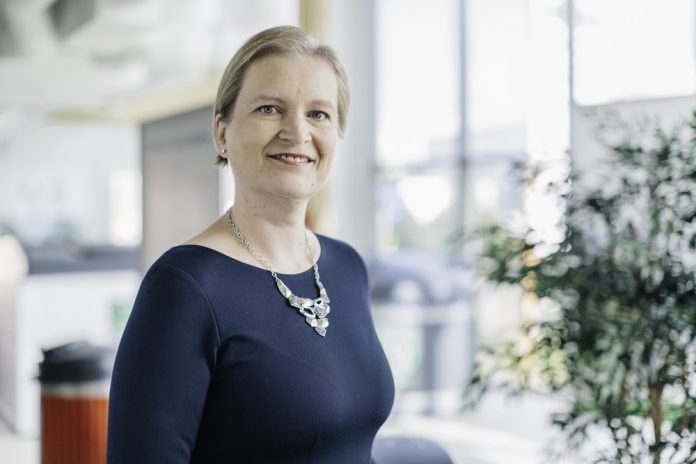 Waste management is a problem affecting both business and society alike. In this article we profile Marja Hillis, winner of Business Worldwide's 2016 Global Corporate Excellence Award in the category of 'Most Innovative CEO – Waste Management Industry 2016', and the innovative waste management technique, The MOLOK® Deep Collection™ system.
It was in the 1980s that Finnish mechanical engineer and entrepreneur, Veikko Salli, looked out at the view from his hotel and restaurant office and saw the main focal point was a garbage bin. It was large, smelly and attracted animals. He took the problem back to his family, where his wife, Anja, came up with the idea of storing waste underground. Salli took this idea on board and in 1991 launched what is now known as the MOLOK® Deep Collection™ system. The MOLOK® Deep Collection™ system now has installations in over 40 countries, and Salli's daughter, Marja Hillis, blazed a new trail by establishing Molok North America Ltd. in 1999.  The system is manufactured in Nokia, Finland, and Mount Forest, Ontario, Canada, and has a global network of sales and distribution.
How does it work?
The MOLOK® Deep Collection™ system works by partly burying waste and recycling underground (similar to an iceberg in that the majority is not visible), and so it creates a better and cleaner environment by reducing the visibility of waste.
It also reduces the need for so many collections. The vertical semi-underground design uses gravity to compact waste, which cuts the number of collections by half. Additionally, it certainly causes far less of a stench as storing waste underground is cooler, serving to reduce odours normally associated with waste. The system contributes to a reduction in traffic and lower emissions. Molok has a strong ethos of working with the environment rather than against it; an effective business strategy since pollution and poor environmental conditions breed insecurity – not a stable basis for economic development.
Unlike much of the waste haulage industry, Molok is very customer and user focused. The crane lifted design of Molok allows for the containers to be conveniently placed for users of all ages and abilities.
Breaking into North America
When the MOLOK® Deep Collection™ system was launched, Marja Hillis was 24 years old and already had her own business – a sports centre.  She was also enthusiastic about her father's newest venture, owning 50% of the shares of the company with her brother Jari Salli owning the other 50%.  The economy was not good, and the new company had to start from next to nothing.  Marja's father drove around Finland giving presentations, and Marja had to call potential customers from home.  After three weeks, Marja and her father had sold 58 Molok® Deep Collection™ semi-underground containers for waste and recyclables to roadside rest areas across Finland.  What followed was something they had not planned or expected.  Requests for these innovative new containers started pouring in from outside of Finland and soon Molok had spread its presence to over 30 countries around the world.
Reaching North America proved to be a challenge. Upon the birth of her daughter, Marja had to give up her sports centre business, her marriage had failed and after discussing the North American situation with her father, she decided to assess the market potential there.  It was 1997, Marja's daughter was one-year-old, and the plan was to go to Canada for a three-month visit.  Two years later, the two received landed immigrant status in Canada and Marja had established the Canadian company, Molok North America Ltd.
The beginning was full of challenges.  Marja didn't have a network of people; she didn't know anything about the Canadian waste industry, and she didn't even know how the furnace in her house in the new country worked!  She jokes:
"I was probably seen as a 30-year old blonde (and single mother), trying to sell her 'daddy's product' in an industry which was 99% male dominated." 
However, she held a strong belief that one day the business was going to be successful.  It was just going to take some time.
The first customers, found within the parks industry, didn't need convincing about the merits of the new method. Through working with Ontario parks Molok gained visibility and demand for the product also grew in other areas.  Many businesses wanted the product, although waste haulage companies were unwilling to work with it.  As a result, in 2003, Marja and her new Canadian husband, Mark, started a waste collection service which allowed Molok North America Ltd. to sell the product and expand the business beyond parks.
Very soon Molok products were seen not only in parks, but in restaurants, offices, multi-residential buildings, schools, and retirement homes, which adopted the new system with open arms.
Six years after having started the collection service, the leading waste haulage company in the area, Waste Management Inc., became concerned about the new system taking over a significant portion of the market. Rather than provoke a confrontation, they agreed a compromise. After careful negotiations, Marja and Mark decided to sell their collection service to Waste Management Inc., who also hired Mark to be the Business Development Manager for Molok within their company.  While there were rumours of a takeover, the reality was they had established a mutually beneficial basis for collaboration. Molok had wanted waste haulage companies to use their product, and now Waste Management Inc. had become a distributor of Molok products.
Molok North America Ltd. continued growing.  Distributor agreements were made from coast to coast in Canada.  To respond to demand, Molok North America moved out of rental facilities and built its own building in Mount Forest.  In 2014 Molok North America became a fully licensed manufacturer for the Molok products and started its own rotomoulding.  To boost knowledge and confidence in the international business, Marja returned to her studies, acquiring an MBA from the Queens and Cornell Universities.
Investing in the future
Mark returned to Molok from Waste Management Inc. in 2013.  Plans for 2017 include Molok North America returning to the waste collection services in geographical locations where it is a challenge for other waste haulage companies to service Molok containers.  Together with cleaning and small repairs services, which started in 2015, Molok North America will create a semi-independent division, which is expected to significantly support the product sales.
Marja considers her staff to be of vital importance. Her goal is to find employees who will fit into the company culture of belonging, and to retain these people for many, many years.  She wants to give her people opportunities to grow within their current jobs and beyond, whether that involves a one-day course or a full MBA.  Christmas is a special time when Marja invites her staff and their families to her house to enjoy a home cooked Finnish Christmas meal which she personally prepares. Nothing is too good for the people she fully trusts.